CNR
The Consiglio Nazionale delle Ricerche (CNR) is a Center for basic, clinical, technological and epidemiological research. This multidisciplinary translational approach has been the key strategy of driving collaborations through the years on a flexible and problem-solving basis.
The main interest of the Institute is in the field of cardiovascular diseases, which are dealt with through a multiorgan and multisystem prospective, covering associated pathologies of the lungs, kidneys, and the neuro-endocrine and metabolic systems. Research is mainly developed in the area of physiopathology and methodology, in which multidisciplinary projects merge in the fields of experimental and clinical medicine, in line with the tradition of the Institute.
CNR has carried out several pharmacological and medical trials in the cardiovascular disease field, developing during its activity a wide clinical database for selection of study populations, characterized in terms of genetics/biohumoral data as well as of clinical imaging repository (Echo, MRI, CT, Angiography). A particular attention has been devoted to the ethical issues for patient data archives and transmission as well as to the privacy legal regulations.
Website: www.cnr.it
IFC-CNR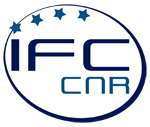 The experience of IFC-CNR in clinical complex research, biomarkers studies and personalised models is well-documented by the extensive bibliographic production, at national and international level. The main areas of research are devoted to:
Clinical and experimental medicine
Molecular medicine, clinical biology and biochemistry
Techno sciences for medical applications and research
Epidemiology and health service organization. IFC-CNR gained and maintained the tradition on new frontiers in cardiology and especially with a tight link to the bioengineering from its origin.
Multidisciplinary and translational research towards Systems Biology and Medicine are main lines of past, present and future interest of the whole institute. In previous European projects, the multidisciplinary focus groups of IFC have offered a fruitful background for innovative research area and for education of young "versatile" European researchers. Ethics in this environment had and has a priority, mandatory position, for many studies of clinical and multidisciplinary research on humans and patients conducted in IFC-CNR, also in the critical field of medical devices validation.
Website: www.ifc.cnr.it
Contact Person
Dr. Maria Giovanna Trivella CONSIGLIO NAZIONALE DELLE RICERCHE Institute of Clinical Physiology Via Giuseppe Moruzzi, 1 56124 Pisa Italy